Tech News #10 – Whatsapp Update, Facebook Modular Phone, Nokia 2, LG for iPhone 9 Batteries
Below are the tech news for today
Whatsapp Beta Adds Picture in Picture Mode for Video Calls :
[media-credit name="Android Police" link="http://www.androidpolice.com/" align="alignnone" width="273″]
[/media-credit]
Whatsapp gets a picture in picture functionality to its video calling through its latest update 2.17.265. The feature lets you chat while still being on video call. User can drag the video to the screen's corner and continue being on video call. Whatsapp used a particular API of Android 8.0 to get this feature. The update is currently only for beta users and for only those devices running Android O. Users on Nougat will also be able to use this feature very soon but when you drag the video while on video call, it gets paused with audio in background and you can use the chat feature while listening to whatsapp voice call. It is unclear when will the feature come to iOS.
Facebook Modular Phone :
[media-credit name="Credit : Project Ara" link="http://www.businessinsider.in/" align="alignnone" width="431″]
[/media-credit]
Facebook appears to build a modular phone very soon. According to a patent published yesterday, the company is going to develop an electro magnetic device that can also be used as a phone. The modular phone will incorporate speaker, microphone, GPS and a touch display. Modular phones will allow users to swap hardware pieces and also remove them just like lego pieces. Last year Google shut down the Project Ara which was also to develop a modular phone.
Nokia 2 Leaked Images :
[media-credit name="GSMarena" link="http://gsmarena.com" align="alignnone" width="511″]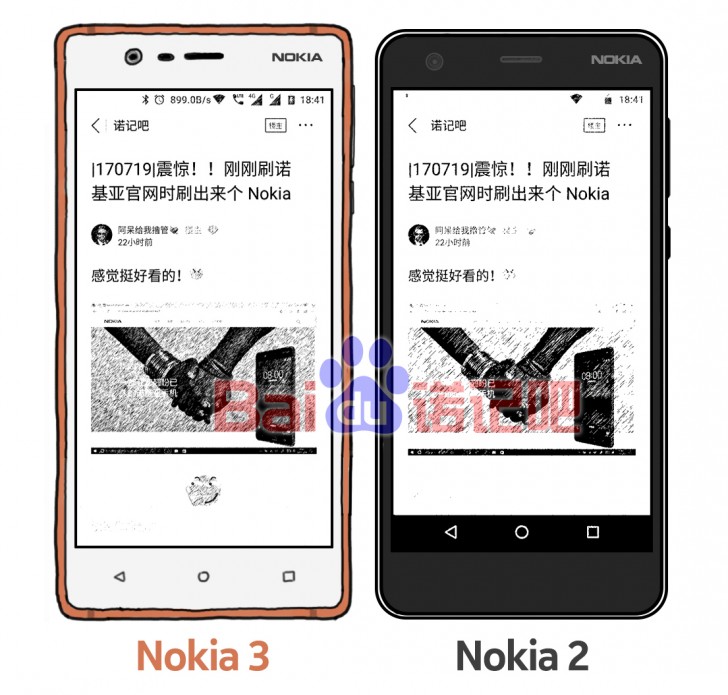 [/media-credit]
Nokia is rumoured to launch a new phone Nokia 2, the cheapest smartphone offered by the company this year. It will be much affordable and cheaper than Nokia 3. There is no such news from Nokia regarding this. But the leaks by a tipster from the Chinese website Baidu. According to the leaks, the phone will sport a Qualcomm Snapdragon 210 MSM8909 processor, powered with a 5 Inch display. A leaked image compares Nokia 2 and Nokia 3 side by side to show the screen size. As noticed, the phone will not have a fingerprint sensor as Nokia 3.
LG to be Battery Supplier for iPhone 9 :
Korea Economic Daily has reported from an unknown source that Apple has selected LG as battery supplier for iPhone 9 due in 2018. As per the reports, the battery from LG for iPhones 9 will be a L Shape. It will have faster charging speeds. The new shape will provide more space to place hardware components in the phone. The news regarding iPhone 9 L shaped battery might be revealed in iPhone 8's launch event.